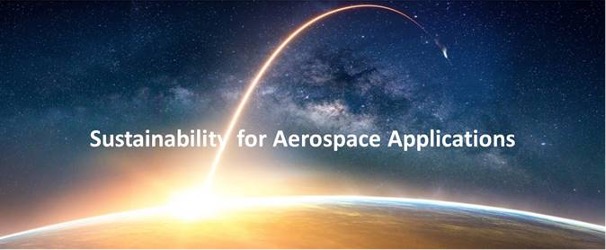 Five webinars about Sustainability within Aerospace are arranged jointly by Swedish universities in the period April 20 to May 31, 2021.
RIT2021* in Kiruna handles arrangements.
These webinars are part of the PhD/industry course "Sustainability for Aerospace Applications" which gives 4 HEC (4 higher education credits). If you are interested, please read more here.
---
SESSION 1 – Sustainability seminar with Swedish Aerospace Industry
April 20, 14:00-16.30 
Programme
14.00 Sustainability from the Swedish space industries perspective – Introduced by Johanna Bergström Roos, LTU Business, Space Campus Kiruna, project manager RIT2021
14.05 SSC – Stefan Gustafsson, Senior Vice President, Strategy & Sustainable Business o
14.35 GKN Aerospace – Johanna Nylander (PhD), Method Development Product Cost & Sustainability, R&T Center, GKN Aerospace Engine System o 15.05
Short break
15.15 Saab – Patrik Johansson, Climate Strategist
15.45 On the UNDP SDG goals from a global space perspective – Prof. Peter Martinez, Executive Director, Secure World Foundation, Colorado, USA
16.25 Wrap-up
Welcome to register for this webinar.
If you would like to follow the whole course you will start on April 20 at 12.30 with the following programme: 
12.30-12.50 Course introduction, overview of UNDP's SDGs. – From Graduate School of Space Technology: professors Marta-Lena Antti, René Laufer, Anna Öhrwall Rönnbäck, LTU, from SARC: assistant professor Ingo Staack, Linköping University (and researcher Ardeshir Hanifi (PhD), KTH). 
12.50-13.50 Workshop: presentation of course participants 60 min
Followed by the seminar 14.00-16.30.
---
 SESSION 2 – Perspectives on sustainability in Aerospace and the SDGs*
April 27, 8.30-10:
Programme
• Using European Research Programs (Clean Sky and more) to accelerate the sustainable transformation in aerospace – Professor Ola Isaksson, Chalmers
• SDGs*: a long term perspective – professor Dag Avango, LTU
*SDG: Sustainable Development Goals
Welcome to register for this webinar.
---
SESSION 3 – Creative and innovative sustainability workshops
May 3, 12:30-14:30
Programme
• "Sustainable Aerospace 2050" (based on the SDG assessment): participants work with their own project challenges, share their work and inspire each other – with professors René Laufer, Anna Öhrwall Rönnbäck, assistant professor Lisa Larsson, LTU
Welcome to register for this webinar (limited number of seats)
---
SESSION 4 – Seminar on Sustainability in Engineering Design
May 10, 12:30-14:00
Programme
• Sustainability in Engineering Design and Measurement Approaches
Professor Sophie Hallstedt, BTH
Welcome to register for this webinar.
---
SESSION 5 – Participants' presentations from the course Sustainability within Aerospace
May 31, 12:30-15:00
Programme
• Report results from self-assessment (PhD projects) and discussion around the table on UN's Sustainability Development Goals (SDGs).
• Report results from individual reflections and discussion in plenum.
Welcome to register for this webinar.
Warmly Welcome,
Johanna Bergström Roos
Project manager RIT2021
Bengt Hultqvists väg 1, SE-981 92 | Kiruna, Sweden
M: +46 70 544 60 21 | P: +46 980 675 35
* RIT2021 is an initiative to drive growth and strengthen northern Sweden's position within the rapidly growing space sector. RIT2021 is a close partnership between academia, private sector and the public sector with a total budget of 5.6 million Euro, Between 2019 and 2021, RIT2021 is supporting a wide range of actions aimed at streamlining innovation and collaboration in the space sector. The project works within four major themes, including: R&D projects, commercialization (Testbed Space), innovation management (Innovation Ecosystem) and cluster development (Aerospace Cluster Sweden). RIT2021 is an EU-funded regional development project initiated by Luleå University of Technology, LTU Business, Swedish Institute for Space Physics,  and Arctic Business, with support from OHB Sweden, SSC, GKN Aerospace, Region Norrbotten, Kiruna municipality, Luleå municipality, Sparbanken Nord and EU. Learn more about RIT2021 at www.ritspace.se